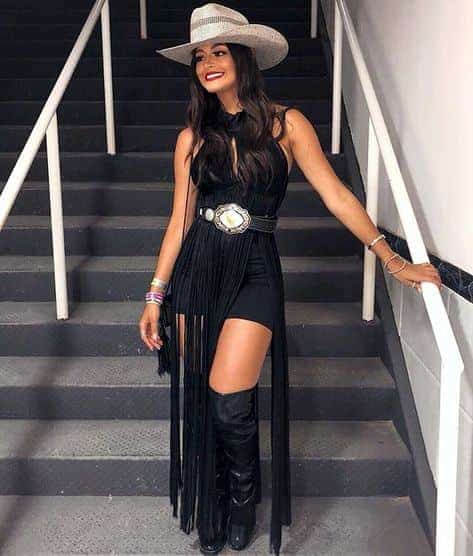 tttttt Introduction
Halloween comes once a year. It gives us the chance to dress up how we want. Since it comes only once a year, we should take advantage of it. Dressing up as a clown, pirate, ninja, robot, astronaut, vampire or a burrito, etc., is something many people do on this day. But how about we go a little different this year? Do you like those 90's movies vibe with guns and horses? Do you also look at those cowgirls riding the horses, shooting guns with all the charisma? We do too. Dressing up in "cowgirl costumes" would make you stand out in the whole crowd. Everyone will have eyes on the beautiful cowgirl.
Therefore, we have prepared a few tips for "cowgirl costumes" for you. It will help you get your perfect cowgirl look that will put everyone in awe. Browse through the article and follow a few simple steps to achieve your goal. "Cowgirl costumes" aren't hard to create, yet they look beautiful.
Tips for Cowgirl Costumes
A cowgirl's look is both practical and fashionable. It is a combination of both masculinity and femininity. Follow the given steps to create the best look of a cowgirl.
The Essentials
For pants, get boot-cut denim jeans. If not jeans, you can also wear a denim skirt, a mini skirt or denim shorts.
For the shirt, wear a button-down shirt. These shirts can be short-sleeved or long-sleeved. If the shirt is a checkered, it'll be even better. For a more casual look, you can go for a half-sleeved crew neck t-shirt. A white or brown t-shirt will be perfect.
Then you will need a western-style cowboy hat. "Cowgirl costumes" are incomplete without the trendy cowboy hat. These hats come in black, brown, tan and white colors. If you don't wish to wear a hat, you can wear a bandana that matches your button-down shirt. You can tie it like a bow and keep the knot part on the side of your head.
Next, you need to get a pair of cowboy boots. These boots are available in different materials. Traditionally, cowboy boots are made of leather. But they are also available in faux-leather and exotic skins like alligators, snakes and buffalo. Apart from the material, these boots also come in different toe styles like round toe, square toe and pointed toe. So there are plenty of options to choose from. Go with the one that gives you comfort and suits your style.
If you plan to wear the boots in wet or muddy conditions, consider getting the ones with a rubber sole so you can have a better grip on the ground.
Wear your hair down in braids or a low ponytail. You can also do loose curls to get a more gorgeous vibe.
Accessories
Tie a bandana around your neck. In the past, cowgirls and cowboys would wear a bandana to wipe their sweat while working on the ranch. Now, it is used as an item of fashion.
Wear the bandana in a way that the tied knot goes behind and the triangle side comes in the front. But you may do this only if you wear a cowgirl hat instead of a bandana on the head.
Wear a Western-style belt. Cowgirl belts are usually made of brown leather and have large gold, silver or turquoise buckles. If you wish for extra flare, choose a belt with braided tassels on it.
Most of the items needed for "cowgirl costumes" can be found in your home. It doesn't even require a lot of effort in making it. With less money and effort, you can make an amazing outfit using things from your closet.
Conclusion
"Cowgirl costumes" can be made to look beautiful, glamorous and exotic, all at the same time using supplies already present at home. Costumes like these also give a little sense of nostalgia to everyone. We combined several ideas after researching many costumes on the internet for cowgirls. We then came up with options that will be easy for everyone. Scroll through our options and make the perfect outfit for yourself.