Looking for inspiration on attention-grabbing Jojo cosplays? You came to the right place. In this blog, we will be talking about this popular series. Being one of the best-selling mangas in history, this series has a very different art style. It is possible to spot it from very far away. Anime is easy to spot, but this show differs from any other anime.  
The mangaka himself has mentioned that his art style and coloring are inspired by specific pieces of western art. From the choice of colors to the facial expressions, the point is to overdo it for the best cinematic experience. Jojo's bizarre adventure covers comedy, violence, shounen-style fights, and more. The story is divided into multiple parts, each having a different protagonist. Starting from the first season, our protagonist is Jonathan Joestar. As the series progresses, his descendants take on the role of the protagonist and follow their own journey in life.
One of the interesting things is that each descendant of Jonathan's has a name that can be abbreviated to "Jojo." The show follows these Jojo characters and their super bizarre adventures. The unexpected comedy received much love from the fans to the point where Jojo references can be found in multiple songs as well as in western media.
If you haven't seen the anime, you may have heard of the character named Dio and the infamous "Omae wa mou shindeiru!" dialogue. It is almost impossible to qualify as a Jojo fan if you haven't heard of these, along with the "Oh, you're approaching me!" line.
With the amount of love this show has received, it is no surprise that many cosplayers have brought these characters to life. So, do you want to dress up as your favorite Jojo character? The competition is tough so buckle up as we take you through a small introduction of the famous characters as well as a brief sketch of the story.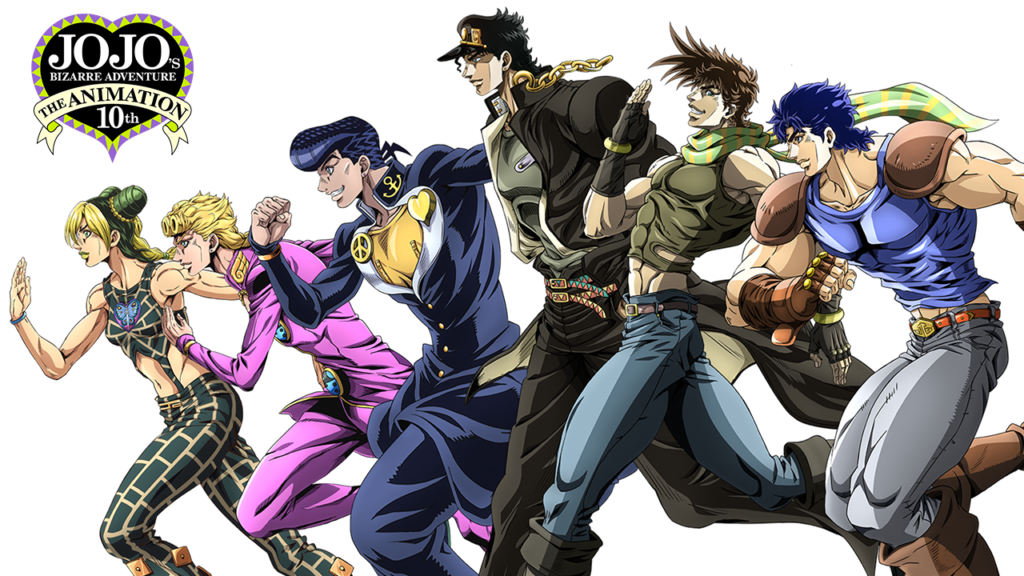 Jojo Characters You Can Cosplay
This series features a very colorful cast, and you can find tons of inspiration for a Jojo cosplay. Below are some of the most popular options, from the characters to their Stands. 
Jonathan Joestar
Jonathan Joestar is the protagonist of the first part of the series, Phantom Blood. With the nickname Jojo, he is the first "Jojo" of the story. Jonathan was born into a wealthy family and had a happy life before tragedy struck him. Despite the struggles that he has faced, he is an optimistic and kind man. We see Jonathan in his childhood era initially and later as an Adult.
Coplayers have recreated Jonathan's looks from multiple generations; however, the Adult era is more popular. Jonathan has spiky black hair and usually dresses up in fashionable clothing. In his first era, we see him in Victorian clothing, including a collared shirt, breeches, socks, and boots. As an adult, he wears multiple tunics styled according to his liking.
This is added with a fancy belt, black pants, and knee-high boots. However, while Jonathan sports many outfits, his individual feature is his dark blue spiky hair and thick black eyebrows. 
Dio Brando
Dio is Jonathan's adopted brother, and the two do not have a good relationship. Dio is a very popular character in the franchise and the main villain of the first series. He eventually takes over his brother's body to continue on with his plot of revenge. In his early days in the Joestar mansion, he wears a formal outfit consisting of a blue coat, a red tie, and blue breeches matching his coat with black suspenders. He also wears long striped socks as well as formal shoes.
Dio's most noticeable feature is his bright blonde hair and the three moles on one of his ear lobes. As an adult, Dio dresses similarly; however, his hairstyle changes, and his clothes are more fitting to his villainous demeanor. Dio's signature colors are orange and yellow, as he is depicted chiefly with outfits in these colors. In addition, his blonde hair and extremely muscled physique are considered attractive by some characters. Dio Brando is an excellent choice for an easily recognizable and badass cosplay.
Yukako Yamagishi
Yukako is a complex character. Her first appearance is in Diamond is Unbreakable, but she also appears in other arcs. She is a beautiful girl with wavy raven locks. Her hair is specifically enchanting because she can also use it as her stand. Yukako is introduced to the audience when she is on a date with a boy, Koichi Hirose.
She is soon revealed to be obsessed with a boy and becomes a rather creepy admirer. In one of her obsession fits, she also stalks him to his window. Regarding her appearance, one of her most prominent features is her hair. She usually wears a sailor uniform in dark green color. She also wears leather socks and shoes with the outfit. Her complexion is slightly pale, and her eyebrows are arched in a prominent fashion. This Jojo cosplay is a great option for a slightly mature female character.
Jolyne Cujo
Jolyne is currently the only female protagonist to be shown in the series. She is a descendant of the Joestar clan and the main lead of the sixth part of the show. While this part has not been animated yet, she is a fan-favorite of many already. Her outfit and hairstyle set her apart from other characters in the show. This is also a cosplay that is easily recognizable.
She has a slim figure and a slightly athletic build. Her hair is partially tied in two buns, and the rest is left on her back. Part of her hair is bleached to a lighter color, while the other part is partially green and blonde.
Her outfit is one of the most iconic ones in the series. She is mostly seen in a dark green ensemble with a print of a single spider web. The sleeveless top extends in two straps that can be attached with the pants to achieve a seamless look. Some of these costumes are made from gabardine fabric. The golden vinyl details add to the look.
Josuke Higashikata
Josuke is the protagonist of the eighth part of the series, and hence the "Jojo" succeeding the previous one. He has a tall, muscular figure with a face that is described as handsome. However, when it comes to his outfit, it is quite different than what his predecessors wore. His costume consists of a dixie cup sailor cap, a wide-neck sailor suit, a neck kerchief, pants, and athletic shoes.
As the story continues, one of his signature features becomes the stone-line stitch on the left side of his face. His hair is an orangish blonde. As he is a character that appears in the later part of the story, he is yet to make an anime appearance. Nevertheless, if you are looking for an iconic sailor uniform look, Josuke is an excellent choice.
Rohan Kishibe
Jojo's Bizarre adventure has tons of characters with an iconic sense of fashion that you wouldn't see in the standard anime media. Rohan Kishibe is one of such characters with an incredibly unique style. His green hair with dark green accents is styled to stay on the left side with a sideway undercut. His facial features are sharp and delicate, with thin eyebrows.
Unlike many other Jojo characters, he isn't exceptionally muscular and instead has a lean physique. Also, his eye color is different in the anime and manga. If you want to go for a heterochromatic look, then you should go with the eye color in the manga. Throughout the series, he wears multiple outfits; however, he always keeps his headband one.
Secco or His Stand
Secco is a character that may not be easy for anyone to cosplay. That is because the outfit is his stand, and it covers his appearance almost completely. However, even with the outfit, we can see that he has an athletic build, blue eyes with prominent eyelashes as well as crooked teeth. His stand/outfit looks like a sand-colored bodysuit with orangish-red strings appearing here and there like stitches.
For a mysterious Halloween cosplay, Secco is an excellent option.
Jotaro Kujo
Next up, we have yet another Jojo on our list. He is a very popular character and one that is very frequently shown in the media. His cosplay is not one to go unnoticed. From his teenage years, he has maintained a particular toned and muscular appearance. His color scheme is mostly blue and golden with chains. He has a serious expression as he used to be a delinquent.
His dark hair blends well with his choice of hats. Although his outfits change considerably, he maintains some parts of his outfit, including his visor cap and a long coat. 
For a successful Jotaro Kujo cosplay, it is recommended to get the most accurate cap, as that will make the costume. For the clothes, you can draw inspiration from his teenage era as well as his adult era.
Diego Brando
With shoulder-length blonde hair and blue eyes, Diego Brando is rather short and has a medium-sized build. His outfit consists of an equestrian helmet, a turtle neck jumper, gloves, breeches, and long boots. The helmet has the letters D.I.O on it in a unique fashion with a bow of matching color right below. His cyan jumper has golden lines all over it, crisscrossing to make box shapes.
One of his signature features is the "Turbo" engraved on one of his eyes. Like any other Jojo cosplay, this one also requires an excellent choice of color and precision for the perfect delivery.
Cioccolata
He has a very recognizable face due to his unique makeup style and somewhat crazy expression. However, at first, it may be difficult to discern his original features as parts of his face are colored green in the form of two stripes below both his eyes, one horizontal stripe on the forehead, and one short vertical stripe on the nose.
He also wears dark lipstick and gold earrings. His short wavy hair is the same color as the stripes on his face. While his outfits vary, he is mainly shown wearing a white coat and golden earrings.
Okuyasu
Okuyasu Nijimura and Josuke Higashikata are great friends, so these two are an excellent option for fans who want to do a friend's cosplay together. He is a normal-looking character by Jojo's standards. Okuyasu's hair is shaved on the sides, and he maintains a flat-top boogie. There are lines on his face that distinguish his features.
His most common outfit is a modified version of the standard school uniform. The jacket is decorated with a large, golden dollar sign on the front and his sleeve has the word Billion written on it in all caps. Along with wide-legged pants, he wears two sagging belts. His costume is one of the easiest ones to put together, and you can even make your own with a few adjustments. 
With this, our list of character cosplays has come to an end. So, which characters are on your cosplay list?
What you can find at CosplayHero
At Cosplayhero, you can find anime and game cosplay suited for both genders. Each costume is available in multiple sizes. Using the size chart, you can find the one that is best suited for you. If you are looking for only one of the items, you can select that in our products category. Below are the main cosplay categories that you can find:
Wigs
This series has some wild hairstyles, and you will probably need a styled wig for that. For this purpose, you can find wigs designed according to the characters, so these are easy to put on and look character accurate at the same time. While you may not get the same color shades as in the 2D animation, you can get a pretty close look.
Costumes
The costumes vary in fabric depending on the design. You can find the material and sizes of the outfits in the description. The decorations and vinyl printing on some outfits are done through heat. Make sure to check if the clothes can be washed with water or not.
Accessories
For any accessories that may be included in the cosplay, some of these may be available with the costume. Others are sold separately. For specifications, please check the description.
Frequently Asked Questions
How can I achieve the best Jojo cosplay look?

Besides the right costume, the facial makeover is a major part of the cosplay. You can also try cosplays without it; however, it is highly recommended that you try and recreate the dark, lined, and toned facial expressions.